Getting CPR Certified Has Never Been This Easy
Why get your CPR certification online? Because four out of five cardiac arrests happen at home. Because nearly 383,000 sudden cardiac arrests occur on an annual basis outside of the hospital. And because your loved ones are relying on you.
When earning your first aid, AED and CPR certification, online training is the most convenient way to go. We offer an in-depth curriculum developed by AHA-trained CPR instructors. Our CPR online certification is compliant with ARC, ECC, ILCOR, and LCC-LCOR guidelines.
Our certification card is valid for two years, and it is accepted nationwide and overseas in more than 60 countries. Companies all over the world use our online programs to train their employees. You can get the materials for your courses on any digital device, including smartphones and tablets.
Online CPR courses are ideal for health care professionals and others needing CPR and BLS certification and recertification. Our students live around the world — and just around the corner.
Train When You Want and Where You Want
Having a hard time fitting your CPR certification or recertification requirement into your busy schedule? Don't worry. We've got you covered.
By choosing to receive your online CPR, BLS, first aid, or bloodborne pathogens certification through CPRCertified.com, you can study on your own time. You can pause and resume videos, skip the subjects you already know, and take the online CPR certification test as soon as you feel ready.
We know your time is valuable, which is why we've designed our CPR online certification and recertification courses to be as convenient as possible while still giving you the in-depth training you need.
Our classes cover a wide variety of topics. Learn how to deliver life-saving care in an emergency situation; ensure workplace safety when it comes to bloodborne pathogens, learn quick-and-easy hands-only CPR, or earn your professional certification.
Curriculums Developed By an AHA-Trained Instructor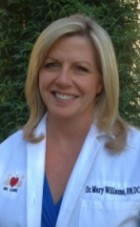 We're the only online BLS, AED and CPR certification company with curricula developed by an AHA-trained registered nurse, and the only company specially licensed to offer CPR training online. Meet Dr. Mary Williams, R.N., D.C. --the expert behind our curriculums.
She's a Doctor of Chiropractic Medicine with an extensive background as a Registered Nurse and experienced Core Instructor for the American Heart Association.
Dr. Williams holds a director of staff development certification from the state of California, a qualification that requires a minimum of 4,000 hours of clinical practice. So you can be sure our training curricula are based on real, hands-on medical and instructional experience as well as 2015 AHA guidelines.
Flexible Online Courses that Fit Your Needs
When you sign up for a rescuer CPR AED, first aid, BLS, or bloodborne pathogen certification class with us, you get unlimited access to all learning materials—on any mobile device. Take the certification test at your own pace; there are no completion deadlines.
If you don't pass the certification test, no problem—there are no limits to how many times you can retest to earn your certificate, and you won't be charged extra.
Our video modules are the highest-quality on the market. They're easy to watch and absorb, and you can always pause, replay, rewind, and skip over information you already know. You'll get step-by-step training from a registered nurse and AHA-trained instructor.
Once you pass the test, you'll receive a printable certificate instantly. Your permanent wallet card will arrive within 5-7 business days.
We certify individual students across all industries--and we're also the first aid and CPR certification provider of choice for a number of companies. Contact us for our group discount rates.
Skills Test? Sure-if You Want One
With us, you can earn your CPR and first aid certification entirely online. Our e-learning courses are designed for busy working professionals, and this flexibility makes it much easier for our students to fit certification and recertification around their other commitments.
But sometimes your employer requires a skills test as part of your CPR course—and we've got you covered there, too. We can help you connect with a licensed provider in your area who can help you meet this requirement. Just get in touch.
Our 100% Money-Back Guarantee
And one more thing. Our wallet certification card is accepted by employers and industries nationwide—and it's very rare for one of our students to have a problem with acceptance. But if you do, we have a 100% refund guarantee. Just let us know within 30 days, and you'll receive your money back—it's that simple and risk-free.