Getting CPR Certified Has Never Been This Easy.
Why get your CPR certification online? Because four out of five cardiac arrests happen at home. Because nearly 383,000 sudden cardiac arrests occur on an annual basis outside of the hospital. And because your loved ones — and your patients — are relying on you.
When receiving CPR certification, online training is the most convenient way to go. We offer an in-depth curriculum developed by AHA-trained CPR instructors. Our CPR online certification is compliant with ARC, ECC, ILCOR, and LCC-LCOR guidelines. Our certification is valid for two years, and it is accepted nationwide and overseas in more than 60 countries. Companies all over the world use our online programs to train their employees.
We're also the only online CPR and first aid certification company that offers a full suite of video lessons demonstrated to be the most effective for teaching CPR skills online. You can get the materials for your courses on any digital device, including smartphones and tablets.
Online CPR certification is the fastest and easiest way to get your CPR recertification. It's ideal for health care professionals and others needing CPR and BLS certification. Our students live around the world — and just around the corner.
Train When You Want and Where You Want.
Having a hard time fitting your CPR recertification requirement into your busy schedule? Don't worry. We've got you covered.
By choosing to receive your CPR and first aid certification online through CPRCertified.com, you can study on your own time. You can pause and resume videos, skip the subjects you already know, and take the online CPR certification test as soon as you feel ready.
We know your time is valuable, which is why we've designed our certification and recertification courses to be as convenient as possible while still giving you the in-depth training you need.
Curriculums Developed By an AHA-Trained Instructor.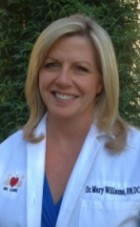 Meet Dr. Mary Williams, R.N., D.C.-the expert behind our curriculums. She's a Doctor of Chiropractic medicine with an extensive background as a Registered Nurse and experienced Core Instructor for the American Heart Association.
We're the only professional online CPR certification company with curricula developed by an AHA-trained CPR instructor-and the only company specially licensed to offer CPR training online.
Dr. Williams holds a director of staff development certification from the state of California, a qualification that requires a minimum of 4,000 hours of clinical practice. So you can be sure our curricula are based on real, hands-on medical and instructional experience.